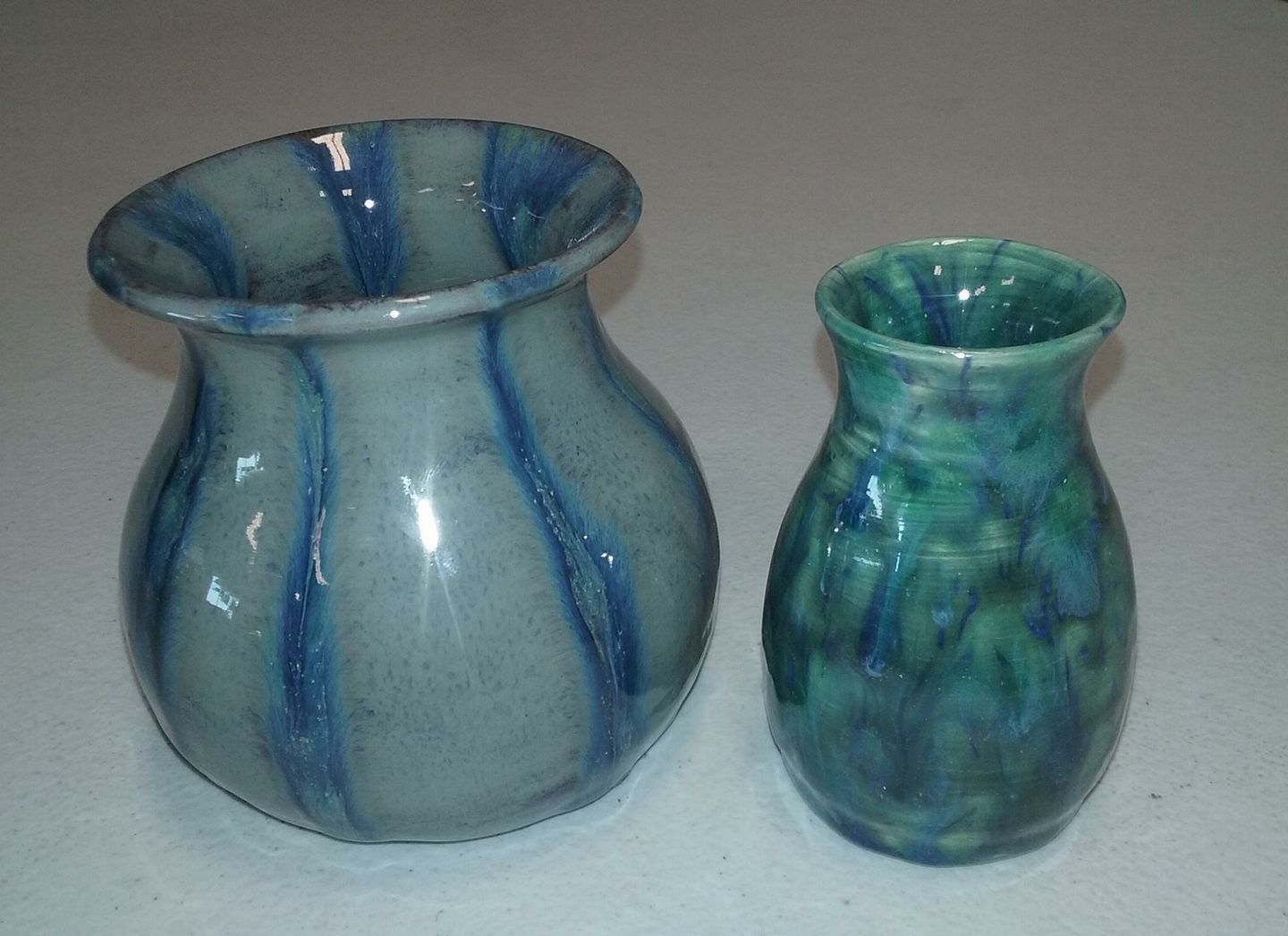 Learn how to create your own clay pieces at one of our wheel throwing experiences. 
No experience necessary!  
Choose from either a Wheel Throwing Private Lesson, Small Group or Party to learn the basics of wheel throwing or take a Private Lesson as a refresher course. Each offering has great exposure to the wheel, tools, and glazes…. or partake in a Six Session Workshop (12 hours) on the wheel to learn about making different shapes, handles, designs, trimming, and more!
Wheel throwing is a great activity for ages 15 & up. Each student will create a clay masterpiece and return in ~14 to 21 days later to glaze their masterpiece at no additional fee (studio time, glazes, and firing included).  Don't forget to return to the studio a 3rd time to pick up your painted items!! You will have 30 days to pick up your items once they have been fired.
We do have special sessions where 9-14 y.o. children may take wheel classes (scouting or wheel camp events).
Types of Wheel Throwing Classes / Events:
---
Private Wheel Throwing 101 Class for 2 – 4 people. $60 pp
A 60 to 90 minute wheel throwing lesson to make 2 or 3 items.  Enroll online and choose from the available times listed for your private class by clicking the button listed above, 'sign up for a wheel class'.  We do not hold classes for only 1 person.
---
Small Group Wheel Throwing 101 Class for 4-7 people. $40 pp
A 30 minute wheel throwing experience for small groups looking to just try the wheel and make one item. Total time for this event varies based on the number of people in the group. Time allotted for event: 
30 minutes for groups of 4-5 people.
60 minutes for groups of 5-8 people.
Please call the studio to secure a time. We will then have you book online.   
---
 Large Group Wheel Throwing Party 8 or more people.  $40 pp
A 30 minute wheel throwing experience for groups looking to just try the wheel and make one item. Please call the studio to secure a time. We will then have you book online. For groups of 8 or more we include a 6″ tile (a $12 value) to help fill in the time while the group takes turns on the wheels, 30 minute wheel experience, and return to paint 2 – 3 weeks later again as a group. Total time for this event varies based on the number of people in the group.  Time Allotted for Event:
60 minutes for groups of 8
90 minutes for groups of 9 – 12 people.
120 minutes for groups of 13 – 16 people. Click here to book now.
Please book your party online and we will confirm with you if your desired date and time work for our instructors. Click here to book now.
(Non Profit group pricing is $25 pp and must have necessary tax free / non profit documentation, see below for more information for non profit groups). 
---
Six Session Wheel Throwing Workshop – $300 pp
Six 2-hour workshops over 6 to 8 weeks (pending calendar availability) for ages 15 & up. Classes include 12 lbs. of clay, wheel instruction, tools, glaze, and firing fees. Learn centering on wheel, opening, pulling, shaping, trimming and glazing. Throw on the wheels will take place for 4-5 sessions and leaving a 6th session for you to make handles or do carvings as you like with your pieces. Then return to the studio a 7th, 8th and 9th time to paint/glaze on your masterpieces on your own time and leisure in our studio during open business hours. Class size must be between 4 – 6 students or will be rescheduled. (Great activity to do with friends or family!)   No make up sessions are provided for missed sessions.
---
Tween/Teen Wheel Throwing Camp + Painting – $100 pp
Join the club behind the wheel. Learn the basics of wheel throwing. Enjoy 4 hours behind the wheel/working with clay (2 hours each of the 2 days). Plus paint $40 of ceramics of your choice after your clay session. ($40 total between the two days or $20 each day). And then it doesn't stop there—choose any day to return to paint your clay creations (2-3 weeks later). Take the one sessions. Like it? Take a second session! (12 hours total of Clay Monet Camp time).  Please have your child pack their own sack lunch and beverage. Ages 9 & up. Next event TBD.
---
Boy Scouts of America & Girl Scouts of America Wheel Throwing 
($25 per scout ‐ over 50% savings on regular price of $40 pp wheel and $12 pp tile) Click here to book now.
These Scout Sessions include all badge requirements:  (Ages 9 & up)
One 90 minute sessions in the studio (3 hours total) with a degreed professional instructor who willl teach the scouts about clay and tools we use, and the glazing/firing process.  
Boy or Girl Scouts: 45 minutes on the wheel and 30 minutes to paint a tile (etching techniques) plus another 90 minute session 2 -3 weeks later in the studio to return to paint your clay masterpiece.
Class size minimum 6 – maximum 20
Please call the studio to schedule.  MUST be held on weekdays only.  CASH or CHECK only.
Special pricing is for scouts only (siblings welcome but are not eligible for the > 50% discounted rate)
For classes that meet boy scout merit badge requirements, see the Boy Scout of America Sculpting Classes Page.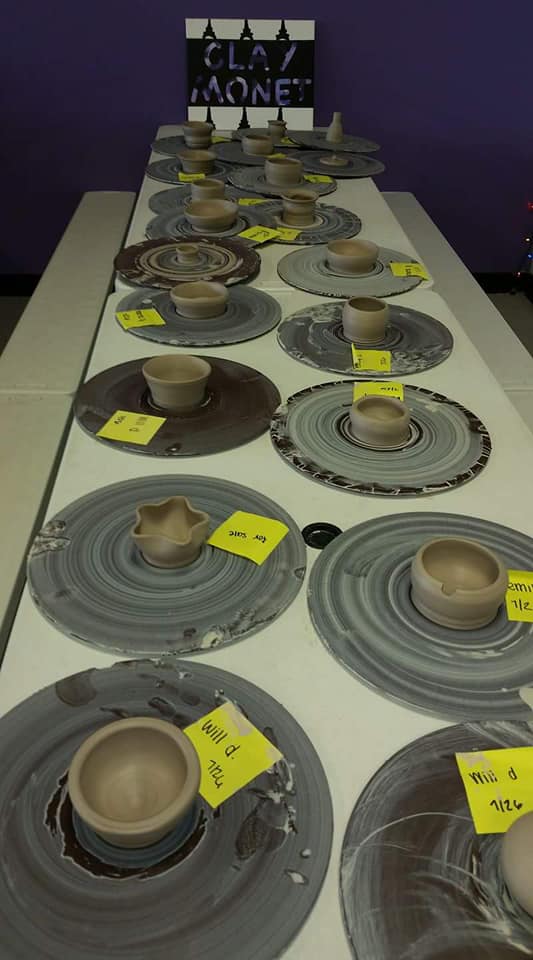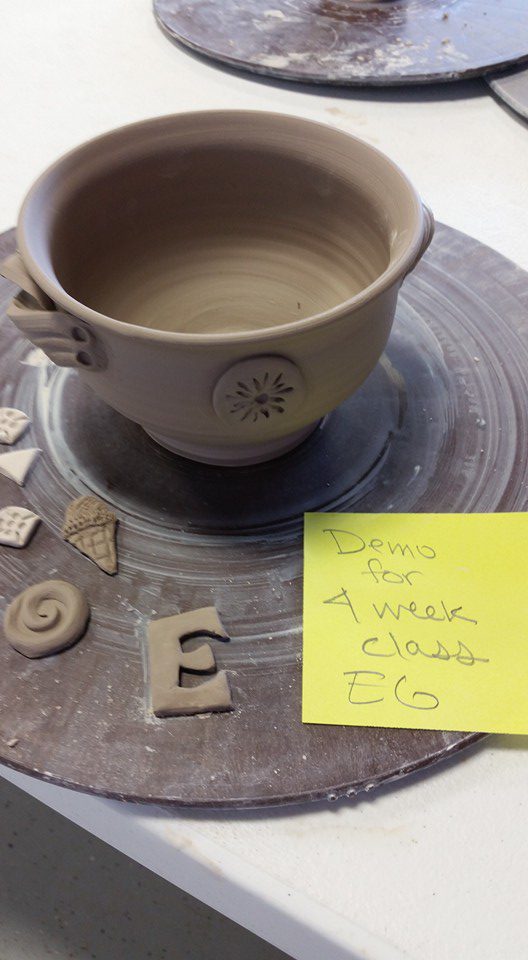 Wheel Throwing – How It Works
Each session will require 3 trips to our studio:  
First trip for the lesson
Second trip to paint/glaze your pots,
Third trip, return to pick up your finished masterpieces.  
Each wheel throwing lesson includes time on the wheel where you will create at least one pot/bowl out of clay. A second pot may be thrown on the wheel, time permitting, for an additional $5, during a small group or party event. We will let your pot dry for up to 10 days, fire it in the kiln, and then call/text you that your pots are ready to be painted/glazed.  You will have 30 days to return to the studio to paint/glaze your pots choosing from over 80 colors and styles of glaze.  We will then fire your painted/glazed pots one final time.  Lastly, after about 7 to 10 days, you will be texted/called when your masterpiece(s) are ready for pick up.  You will have 30 days to pick up your items.  Unclaimed items may be donated/discarded after 30 days.
A 24 hour cancellation policy applies to all wheel participants when cancelling for any reason within 24 hours of the class.
A 48 hour cancellation process for party events is required. 
---
IMPORTANT INFORMATION FOR ALL WHEEL EXPERIENCES
Must book your Wheel experience online. (Private class times are listed online. Call the studio to secure a time for group classes, or non profit classes.)*
Must be at least 9 years old to take the class. no exceptions.
Limited guests/observers may stand and watch the class based on limited space in the studio.
You MUST sign up in advance for all wheel offerings ahead of time.
No walk ins allowed for wheel offerings.
Show up 10 minutes early.
To cancel or change your lesson time, you must do so > 24 hours in advance or forfeit your payment in its entirety
A minimum of 1 clay creation will be made.
No additional fee for the glaze/fire for the first creation.
If you make a second creation during your Small Group or Party, and want to keep the creation, there will be an additional fee of $5 to glaze/fire the second item. $5 will be due at the conclusion of your lesson.
Return to glaze your creation(s) 2-4 weeks later at your leisure.
Will keep creations in studio for only 30 days once it has been fired and awaits your return to glaze.
Long hair should be tied back and remove any hand jewelry.      
Wear clothes you don't mind getting dirty.  Lighter clay 'usually' does not stain.
Remove hand jewelry before going on the wheel – it will get dirty! (e.g., rings, bracelets)  
Attention All Clay Customers:  Clay Monet is not responsible for the outcome of sculpted or wheel thrown items created outside of an instructor lead and during an instructor lead scheduled class or due to clay gases causing disruption of the clay integrity or improper thickness of creation (holes/cracking). Clay will be clay and is unpredictiable.