Adult Parties
Ladies Night Out & More!
Adults Love A Party at Clay Monet!
Whether you are looking to spend a night out with friends, company event / team building, or plan a bridal shower, Clay Monet has the party options for you!
You may request extended hours, BYOB, and catering while you enjoy the studio to yourselves. Call and ask for availability and/or more details or click here for inquiries about scheduling a party or event at Clay Monet.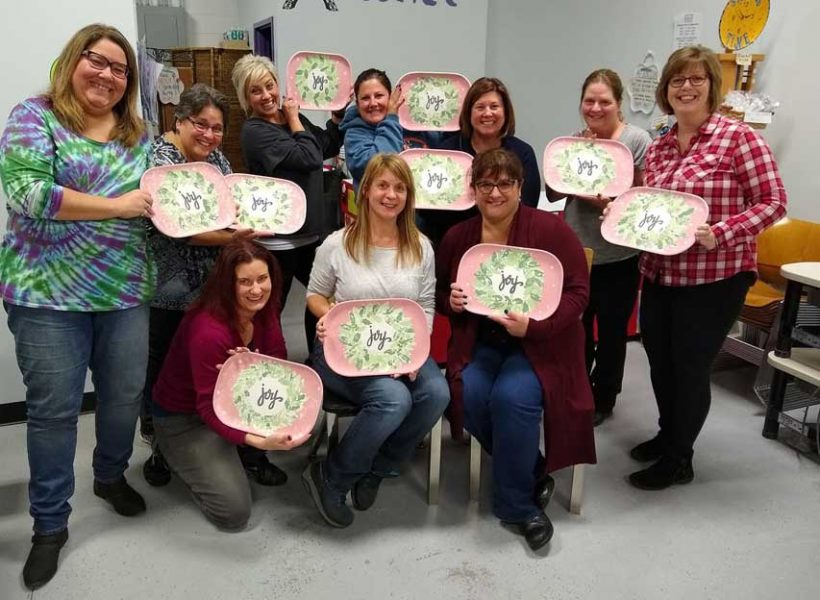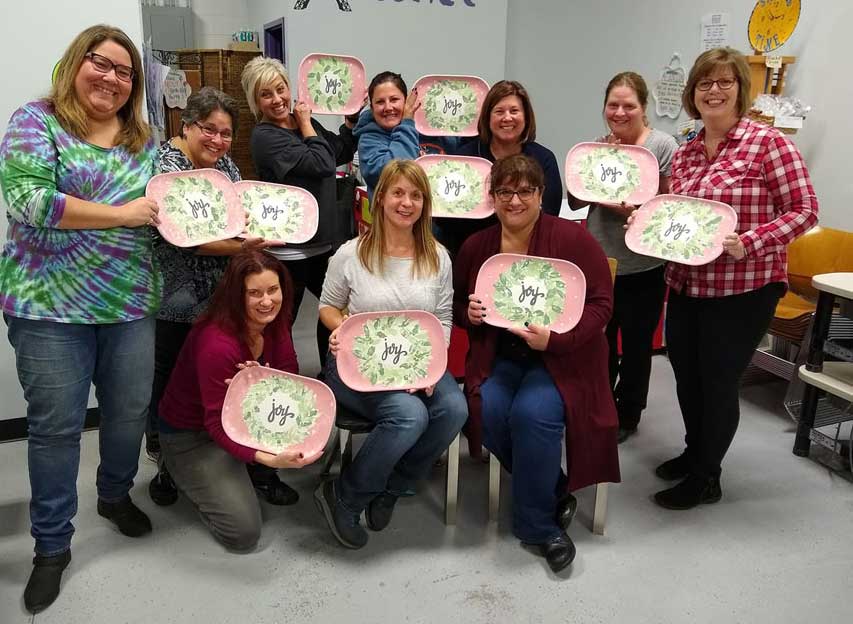 Parties-To-Go
Price per piece, plus paint and brushes on loan
Paint at your leisure at a choice of your leisure. You choose the pieces for your at home party.
We will package them for you to take home along with 4 paint color selections for you to paint at your leisure (either at your own party or on rainy days). 
A credit card number is held as a deposit for the supplies.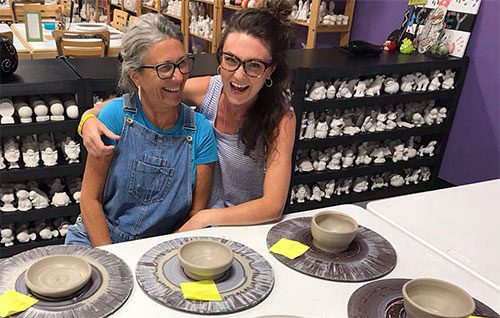 Adult Wheel Throwing Party
$40 per person + 15% service fee (Minimum of 8 guests/maximum 16 guests – $52 value)
2 hours total:  45 minutes instructional wheel throwing lesson while creating your own pot on the pottery wheel followed by 45 minutes of painting a tile – plus 30 minutes for time to eat and visit.
Return in two to three weeks as a group to paint your clay masterpiece.
Adult Pottery Painting Party
Minimum 12 guests / maximum 80
Fun big party table for 90 minutes in studio or 'to-go' party package
Extended hours of operation (upon request) $100 for up to one hour

Guests choose pottery pieces from our entire main studio, including our package items. Great for all ages and families! 

One $25 party fee plus
Minimum of $300 in pottery with prices of items ranging on average from $12 – $48 per item
Plus minimum 15% service fee

All painting supplies, glazes, and firing fees
Outside food and drink allowed for all parties 
Additional Party Information/Requirements:
A credit card is required to book the reservation. 
A $50 fee will be charged for any reservation cancelled within 48 hours of the party start time.
15% service fee will be added to the bill.
Pick up bagged fired party pieces usually ready within 7-14 days.
Selections pending availability – special orders require up to 4 weeks
Party times are as follows: Weekdays: any time, Sat: 10, 12, 2, 4. Sun: 12, 2, 4
Click here for questions about scheduling a party or event at Clay Monet. If you are ready to book, Schedule Now.